At Kinkead Pharmacy, you can expect total confidentiality and excellent patient care for prescriptions and over the counter needs. We are always happy to take time to talk to you.
Prescription Delivery
We deliver to Hallsville inside the city limits on Thursday afternoon and we do the same for Sturgeon on Wednesday afternoons. We deliver daily within the Centralia city limits.
Home Health
We stock a full line of home health care products for sale or rent, including:
Wheelchairs
Crutches & Canes
Walkers
Bath Bars & Safety Equipment
Sports and injury braces and wraps
& Many More Assistive Living Products
Health & Beauty
Not only do we carry all the name brands, but we carry our Good Neighbor Pharmacy brand to save you money too.
"Compare To" Quality saves you money over the Name Brands. Everyday Savings: buy 3 GNP products (mix n match) and Save 10% on each.
Sundries & Toiletries: shampoos, razors, toothpaste, etc
Make-up by WetnWild
Vitamins by Nature Bounty or Good Neighbor Pharmacy
Self-Serve Photo Processing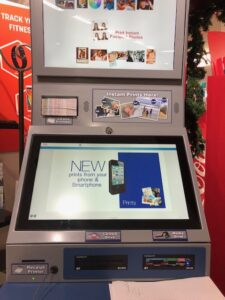 I'm so excited!!!!! We are expanding our photo printing services! We've got all new equipment with state-of-the-art software. You'll get FREE cloud storage to keep your precious memories safe. With your photo's on our cloud, you'll be able to access them anytime you're in the pharmacy. OUR scrapbookers are going to go crazy over this!!! And here's another convenience: you'll be able to upload your pics from your computer or cell and place your order online and then just swing by the pharmacy to pick up your prints.
Enjoy the Feature rich software – The most advanced software available today!
Facebook connectivity – Print directly from your Facebook account or from shared images, friends or family members.
Choose from glossy or Matte prints.
Print sizes: 4×6, 4×8, 5×7, 8×10, and 8×12
Put text, borders or clip art on prints.
Print greeting cards, passport photos, calendars, index prints, collages, photo packages
Voice assist for customers
Also>>>>> the new scanner is more advanced which will produce even better results when you PRINT FROM PRINTS. And>>>> your prints (as always) will be archival (they are emulsion based, not ink)… they won't smudge or get damaged by liquid. We know how important our photo printing kiosk has been and is to our customers and we've made this investment to serve you better. The new equipment is up and running. Come see us today. Not in the mood to learn anything new- well….the other two machines we've always had are still spitting out the prints.
TO UPLOAD YOUR IMAGES TODAY, GO TO: www.gnpphoto.com to set up your FREE account and unlimited CLOUD storage.